BLOG
Imagine, on your next cultural trip, you could navigate your way through your travel destination with just one tool to get information about places steeped in history.
Wouldn't that be awesome? A tool that shows you places to discover and at the same time allows insight, reads to you or e.g. plays a video about it. Imagine the possibilities that would be offered in combination with technologies such as augmented reality, social media, GPS or e-commerce. Finally, cultural knowledge would be given an appropriate priority, which platforms such as Facebook, Instagram & Co have already achieved in the lifestyle sector. To experience and share education and history in an interactive way. This is our vision, our drive. That's why XiBIT exists. We want to offer tourism-related and object-related cultural content a platform for more presence for art, culture and points of interest.
Too good to be true?
In view of the current situation (you know what we mean, we don't want to write it down anymore, it's just annoying) it might feel a bit strange to imagine strolling carefree with friends through the streets of a strange city on the heels of the founding fathers or mothers ;-) But we all hear the call from afar very loudly, even if it currently leads us just to the edge of our garden or into madness. At some point things have to go uphill again, and until then, unfortunately, points of interest can mainly be researched digitally. An opportunity to position oneselves digitally in order to be seen.
As an XiBIT user, you are part of our movement, and that makes us proud.
Together we are getting closer to our goal of building a cultural information network by people for people.
Depending on the target audience, choose the languages you want to publish your content with XiBIT - a brief overview of multilingualism
Due to the growing digitization, new target groups are also emerging in cultural tourism and in the exhibition area, since the consumption of content is no longer exclusively linked to the actual stay in one place, but can be expanded with XiBIT regardless of time and space. In particular, exhibitors, museums and tourism professionals are opening up new communication and mediation channels and thus new target groups, perhaps also in terms of language.
Which languages does my infoguide need and why?
Presenting content in English as an institution of public interest should be obvious. Which languages you should use for your own infoguide can e.g. reveal your domain's access statistics by country, if you don't already know them anyway. Objects or infoguides set up in multiple languages have the effect that viewers of your content feel more personally addressed, not least because you have taken them into account by simply offering a certain language. That leaves a positive impression.
How does the creation of multiple languages work?
When creating an object or infoguide, you select the main language, in German-speaking countries this will probably be German. There is a drop-down menu on the object or infoguide page in which all available languages are available for selection: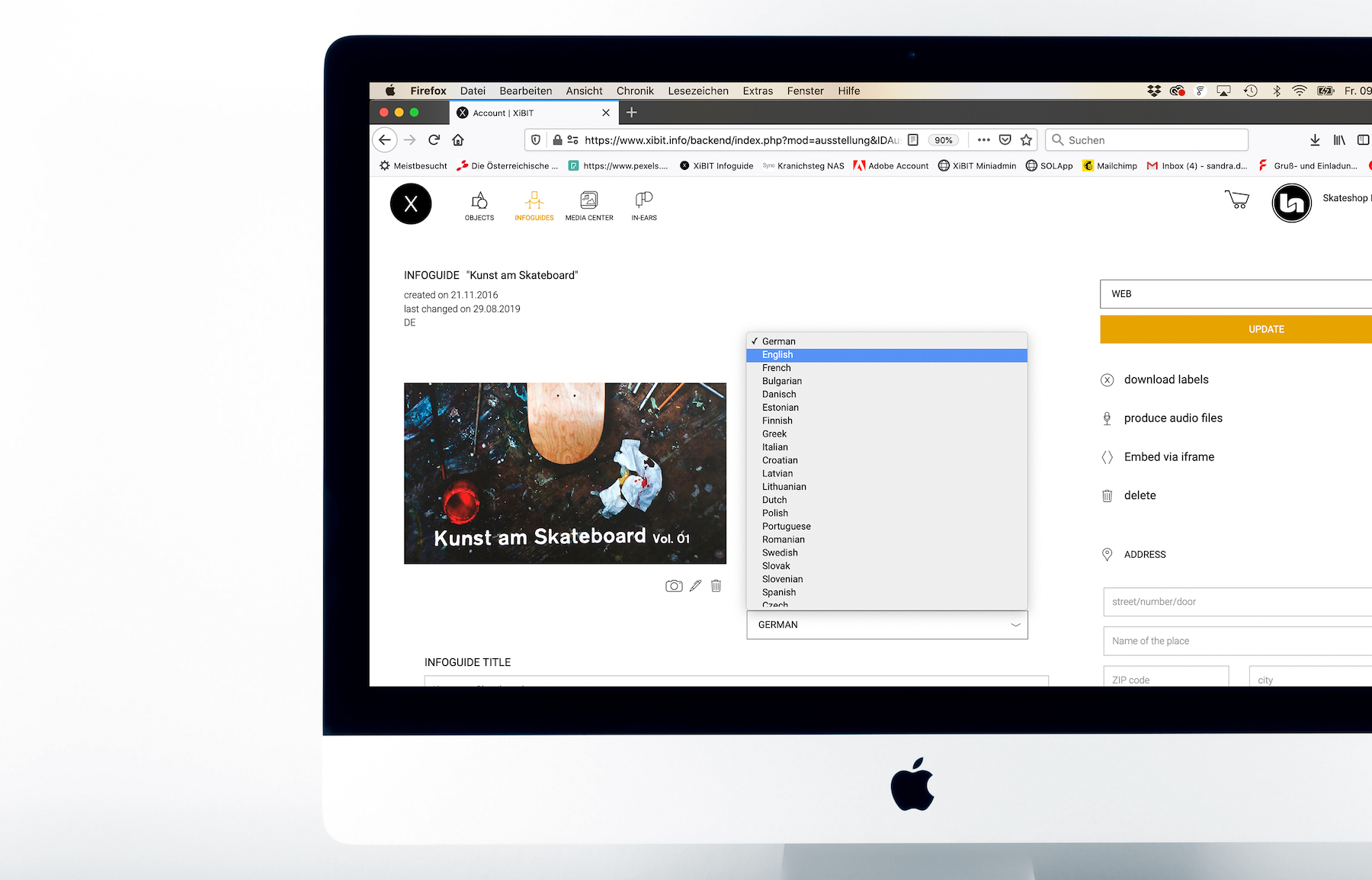 After you have selected a language, an almost empty page opens, don't panic: most of the fields should now be filled with content from the new language, the previously created language is of course still there. Don't forget to "update" every now and then. Depending on which preferred retrieval language the person retrieving data has set in the app, objects or infoguides appear in the selected language, provided as long it has been created beforehand. If your object or infoguide is not available in this language, the system will check whether it is available in the language of the operating system of the operating smartphone. If this is not the case either, the main language is displayed. According to this, continuous linguistic availability of all objects of an infoguide should be guaranteed.
Have content translated professionally - with XiBIT
If you do not have the necessary resources to translate your content, you can outsource this part. Caution: Tools like Google Translate can now really do a lot, but texts cannot be used without personal, human correction, and this only works if the person in that language is really capable.
Professional translation agencies do a very good job, and often they even offer specialization in a certain subject. If you need help, you are welcome to contact our team and order a professional translation.
You too can create a digital infoguide with XiBIT and make exhibition content visible to other people!

Your XiBIT team!
Let us emerge stronger from the "viral" crisis by using the unforeseen free time to maintain and prepare content.

A nasty virus has shown us how fast it can go if we are affected by extraordinary influences. The system of the state is taking effect, and the government is communicating en masse specifications to which we must abide in order to contain the virus. Who would have thought that within a few days, all operations would be cut back and people would stay away from the streets and thus from all showrooms? Let us emerge stronger from the "viral" crisis by using the unforeseen free time to maintain and prepare content.
At the end of the day, we hope that we will all get through this well and that we will not suffer any health or gross economic damage. Hoping is not the only thing we can do in the next few weeks. The recommendations on the part of the associations clearly are "do what you otherwise don't get, which is normally postponed". An excellent opportunity to process the archives, clean databases and to create a digital infoguide with XiBIT and add value.
In 6 stages to the digital visitor information system:
1) Organize the exhibition/inventory thematically or spatially in groups (infoguide) and determine individual objects/topics that you would like to show or thematize
2) Think about whether one infoguide is sufficient for the entire exhibition or whether more is needed (how big is my house/range?)
3) Create and assign infoguides and objects in the admin area by name
4) Prepare at least photos and texts on the objects/topics
5) Fill the object and infoguide pages with the content and select visibility status
6) Print a signage with a QR code and attach it on site (see print templates in the download area)
If you already have good photos and texts of your objects/topics, you will be happy to hear that the creation of your infoguide will be done quickly. If you shine through the lack of good media content, now is the time to change that.
You can find further help on the XiBIT blog
Often the only thing missing is the technical self-confidence needed to prepare content appropriately. You can find several articles with tips on this topic in our blog.
How do you draw your audience's attention to your infoguide?
Depending on the application, this topic could be essential for your purposes, for example when using XiBIT in a showroom. Here it is important to inform the audience about the existence and handling of the infoguide, as it cannot be assumed that the additional feature that you offer with XiBIT will be noticed without eyecatcher. Accessing information about objects created at XiBIT may not be a major challenge for media-savvy users, but you have a clear advantage and can also use it for marketing purposes if you emphasize the additional benefit.
Where to find the templates:
Under menu Info/Download there are various visitor instructions in XiBIT design, which differ in text depending on the type of use. These templates are printable, so they can be printed directly on signs, but can of course also be expanded graphically (e.g. with logos or additional text) or as a template for a completely own design.
Essentially, visitors are advised to download the XiBIT app from the App or PlayStore and to request a centrally located code. Templates are available for signs, but also in a small format e.g. for stickers for object marking.
No more excuses...
If you want to use XiBIT for an exhibition on site or for a theme path, you should know about the various signage options, because using a professional visitor information system is really easy with XiBIT.
As already discussed in the blog "How to use XiBIT to transport the content of a museum to the outside", a sign in the outside area of ​​a showroom can be useful to get information outside of the opening hours (or if a nasty virus forces operators to close facilities) and would like to give insight into an institution.
! No chance for digital invisibility!
Everything about information retrieval via downloadable QR and number codes
Here we show you how to use XiBIT labels for object or exhibition marking. If you would like to grant your visitors direct access to information on certain objects, you can use the XiBIT labels available for download.
There are two versions:
QR-Code
The QR code scanner integrated in the XiBIT app makes it easy to scan a label placed next to the object. This also works with a conventional QR scanner app, but the object page then opens in the browser.

 


Number Code
A combination of numbers is often used in a museum or gallery. The code can be typed into the numpad of the XiBIT app to call up an object.
Tip: You can assign your internal catalog number to an object (Article ID).

 
Call up an object page in the admin area: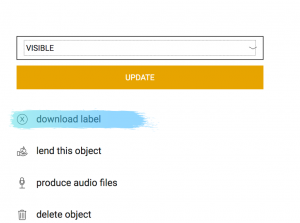 Click on "download label" - If you have not yet assigned the object to an infoguide, you will be informed of this in the dialog. The assignment to an infoguide is important so that you can also access the neighboring objects. Make sure that your object has at least the status "visible" so that it can be called up via the label.
Mark individual objects vs.
a central code for the entire exhibition?
If you want to download labels for all objects in an infoguide, you can also do this from the infoguide page. You can find the process in the same place as described above, but only on the infoguide page. In this dialog you will be asked to choose whether you want to download individual labels for all objects in the infoguide or just one for the entire infoguide (QR). Here you should consider whether you want to mark individual objects on site or e.g. only the entrance area of ​​an exhibition/room. The difference results from the individual requirement such as e.g. station paths (individual object marking) or a small museum (QR code for the infoguide is centrally accessible at the beginning of the exhibition). Think about what makes sense in your case. It can often be a combination of both.
Application examples:
In showrooms like in the museum or in the gallery:
Regardless of whether you are thinking of a specific signage for object marking or you would like to create label stickers, simply integrate the downloaded label file.
On labels:
Implement the label file in a graphic layout of your label to publish the story about your object.


You can find templates for room and object signage here!
We hope you enjoy creating your info guide!
Your XiBIT team!
An instruction in 5 steps
Going with children into a museum is usually a challenge for parents and offsprings: do not run, do not attack, be quiet. How you spice up the museum visit for children, you will learn in this blog post.
Planlessness coupled with missing requirements lead to absolute chaos in everyday life with children, that's what we already know from home: If there is nothing concrete to do, children usually do a lot of things that make their parents run wild. So a supposedly comfortable afternoon at home can be a big dilemma. A principle that continues outside of the own four walls: Children need a sensible activity. It's best to keep children well informed about what's being done, then they feel more secure and automatically behave less noticeably. A fact that can be exploited in the museum. The basic idea is to offer with XiBIT a separate, parallel children's infoguide. Something that guides them through the museum, which can be understood, experienced and nurtures the needs of children. And that's easy.
OK, so step 1 is: You may already create or may already have a character (mascot) to communicate with the children.
Here we just want to call it "Xandi". With a few graphic skills Xandi sees the light of day and takes his position as a children's museum guide. (Oh, they are growing so fast ...)
Step 2 follows by preparing the main themes of the museum for children. This can be imagined as follows: The ten main themes are rewritten in children's stories and then produced as a child-friendly audio play (of cours with exciting background noise).
Step 3 involves the creation of a child-friendly flyer, which is issued to children in the entrance area and contains questions or tasks about each audio play. Xandi sends his little visitors, so to speak, on a scavenger hunt. Finally, a drawing shall be made and who returns the flyer at the exit, may get a surprise (key chain, mascot stuffed toy, merchandising stuff etc. ...) or takes part in a competition.
At step 4 these ten children's objects will be created at XiBIT and the downloadable QR labels will be implemented on ten markers designed for children. The markers should not be placed too high in the museum, so that even the smaller children can still reach them well. Also conceivable would be ground markings and hints in any form.
Step 5: Loan devices (simply prepared tablets with the XiBIT app and colored headphones) must be provided. This prevents collisions, as we usually knows from experience stations in the museum.
If the institution has its own children's areas, where the children can listen to the stories or can end up creatively, adults can enjoy a nice visit and quiet finish and everyone could learn something and is satisfied, not least the marketing department and the museum itself ;-)
With the embed code you can now make your infoguide available via your own website.
A the age of increasing digitization, exhibition visits or cultural tourism are no longer tied exclusively to a physical stay on site, but can be expanded with XiBIT regardless of time and place. For exhibitors, museums and tourism providers there are now new ways of communication and communication channels that contribute to digital visibility and a greater dispersion.
61 % of travelers gather comprehensive travel information about their destination before traveling. Visitors can use digital offers to plan and prepare their cultural tourism visit to a museum or theme trail or similar better in advance. The aim of the cultural institution should therefore be to optimize the digital presence.
As you make your bed, you lie on it. So embed!
Maybe you've already noticed: In the XiBIT admin area, a new useful feature has been added, which allows you to embed your infoguide created at XiBIT on other websites via HTML. So your Infoguide is now not only on the XiBIT web platform and the app, but also on your own homepage. Condition for this is the object and infoguide status "web", which means that the publication of your contents on the web is allowed. Actually these are currently the access options for object or exhibition-related information:
Access via XiBIT labels - either at exhibitions on site or on printed material (such as marketing material) - depending on the requirements - allows visitors to get information for example by scanning the downloadable QR code. Concerning marketing, with the inclusion of a QR code on for example brochures there are new ways to bring content to the public and make paper more alive. By accessing through the search function, the desired information can also be found from home or on road without a specific object or room marking. Likewise when accessing via the preview link of an infoguide: Embedded in every conceivable website that makes sense for your requirements, it ensures a broader spread of your content. Views can be measured via the XiBIT statistic tool.
XiBIT makes it easy to create a digital infoguide for your exhibition via the web - what to keep in mind:
1) PUBLISH YOUR PROFILE PAGE
Under "My Account" (top right, if you are logged in), you can upload profile and background pictures, description text and videos to you or your institution. Only if you set the status to "visible" your profile page will appear on XiBIT: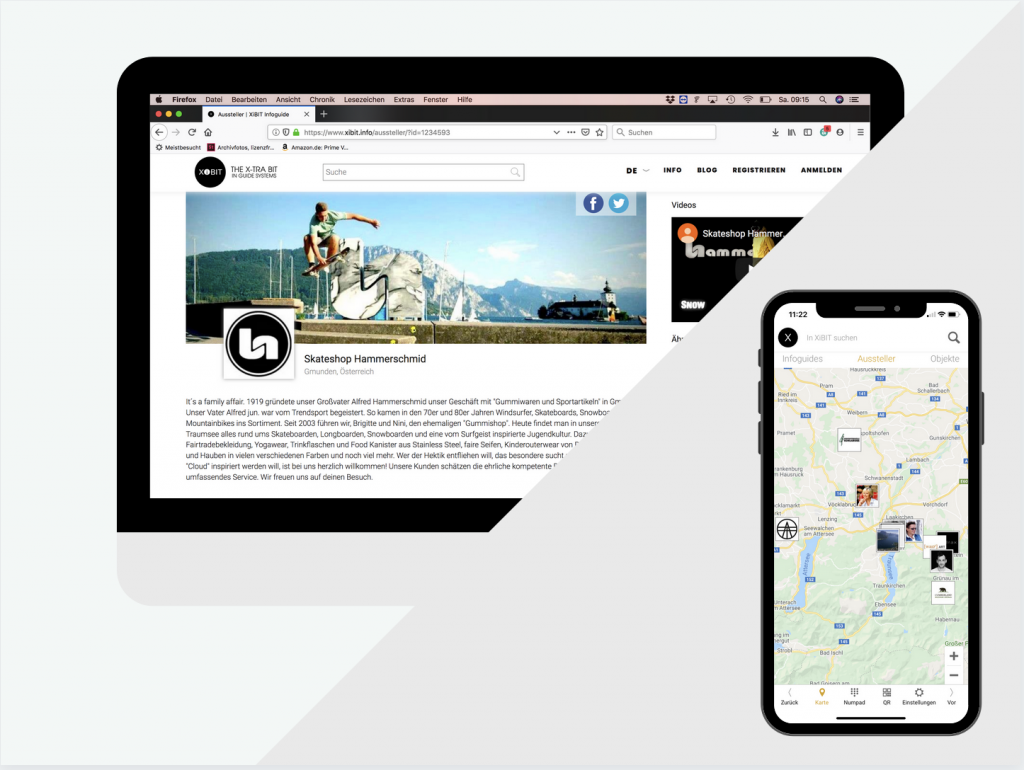 2) CREATE & DESIGN OBJECTS
In the object overview, you create objects that you can describe multilingual with various media if required. Note: In museums, objects are more of an inventory of an exhibition, in tourism institutionsfor example points of interest.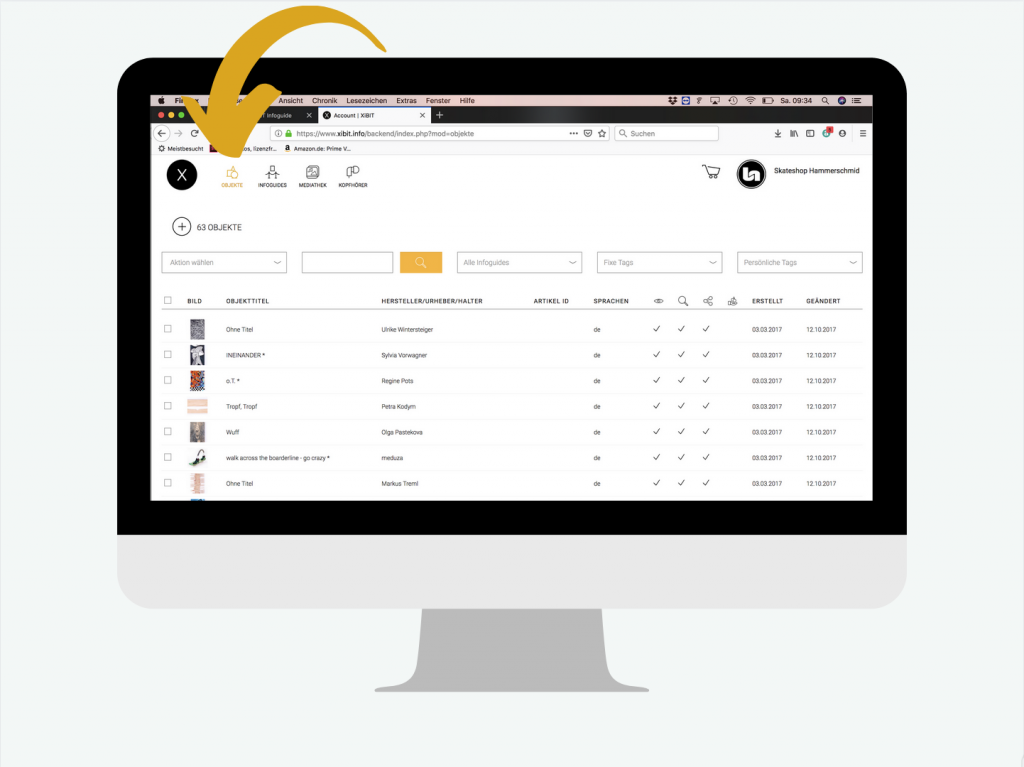 3) CREATE YOUR INFOGUIDES
An infoguide is the summary of individual objects that are related locally and/or thematically. Describe your Infoguide also multilingual and assign objects already created to the Infoguide.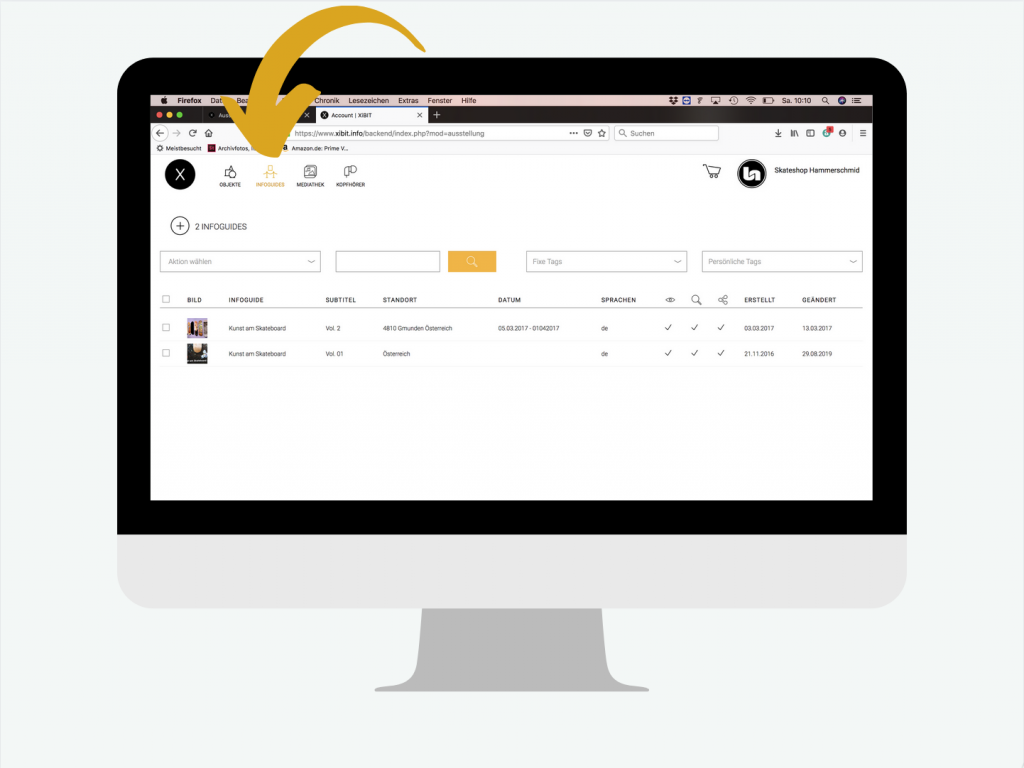 4) CAUTION: VISIBILITY STATUS
In the top right corner of object and infoguide detail pages you can determine the respective status: Invisible, Visible (only available via label) & Web (content is also available on the web, infoguides are published on your profile page):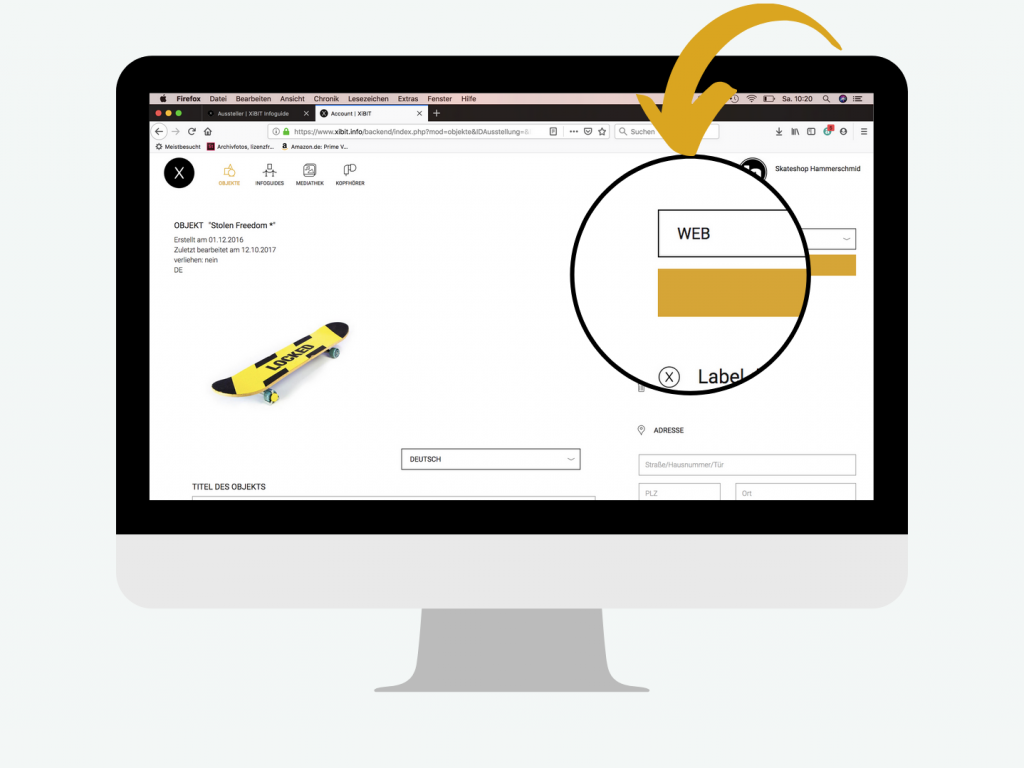 5) RECALL INFOGUIDE VIA WEB/LABELS
If you have published your infoguide on the web or downloaded a downloadable XiBIT label and implemented it in rooms/print media, your infoguide is available. Also mark individual objects using templates!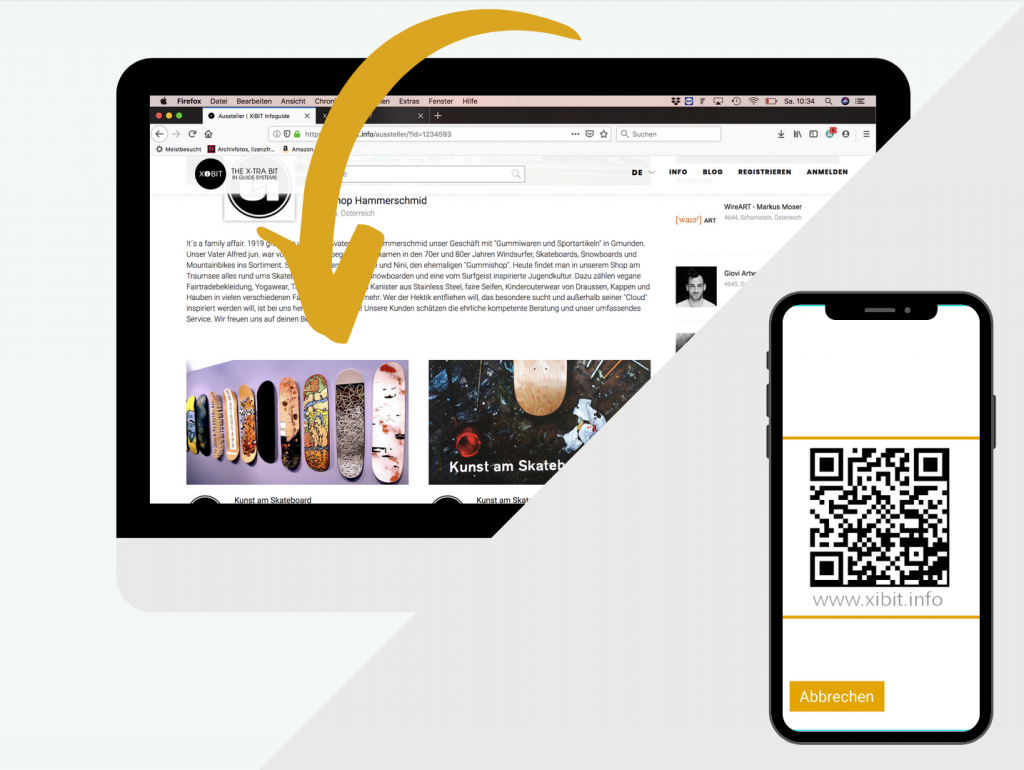 If you have any questions or need assistance, feel free to contact us personally, just write an email to support@xibit.at
or call us on +43 (0) 5 08010.
Have fun creating your infoguide,
yours
Xibit team!
What visitors awaits inside a museum is shown via the "Miniguide", which is placed outside and contains an excerpt from the main infoguide.
Many museums have constant opening hours, not every house opens 7 days a week. Smaller museums often rely on volunteers, so they are unflexible for time or monetary reasons.
Show presence anyway.
The XiBIT miniguide allows visitors to get a foretaste of the museum - whether during or outside of the opening hours - and provides museum operators more flexibility concerning information transport and personnel. It can also be used to convey valuable information about the museum. Thus, visitors do not stand in front of closed doors and can console themselves with experiencing at least some of the objects from inside the museum.
Not too revealing, but a few insights may be provided...
Many museum operators want their content to be reserved for visitors. The reasons for this are clear: People shall be moved into the museum as an experience, the museum wants to be noticed as a competence center. Therefore, the visibility status of an XiBIT-Infoguide in the museum is generally "visible" and not "visible and XiBIT-search", which allows the exclusive retrieval of the Infoguide on site. Via the outdoor miniguide, however, the visibility status "Visible and XiBIT search" should be set, so the miniguide can also be accessed via the XiBIT search and also appears on the profile page of the exhibitor and in the map, which offers an overview of the content in the region. A sign with the QR code of the miniguide near the entrance indicates that content can be accessed. With the sharing function, content via Facebook & Co can reach even more people. Another good way to do public relations.
Object-related information can be transported very easily with XiBIT, whether they are intended for a specific audience or intended for the public. Feel encouraged not to sting your content because people want to explore their surroundings. In the age of Internet, people like to inform themselves about the expected experience even before a visit of a museum, and with the miniguide, they are even more motivated to make a personal visit.
A miniguide can also be used on its own, so it does not require the presence of an infoguide in the museum. It is quickly created - especially if there is already some content of the museum - and helps to increase the visibility, both online and offline.
Tips and tricks for a sucessful use in the field and an attractive object presentation
In the age of smartphones & Co almost every consumer bears the appropriate hardware for an electronic visitor information system in his pocket. People are visiting exhibitions in museums, industrial showrooms, at trade fairs or on vacation and would like to receive information about various exhibits or Points of Interest. This information can be transported either ideally by a person or with auxiliary devices such as information boards, leaflets or a guide system. The latter of course is optimally the own smartphone, because it has not to be borrowed first and the use is familiar. It also helps the exhibitors to save resources such as space, money or paper. Thanks to its location service the XiBIT app shows all exhibitors in your surrounding area. With XiBIT, your environment comes to life.
Using a guide system for smartphones in exhibitions stands to reason, especially when it comes so easy as with Xibit: Once you've registered for free, you can start to enter your objects into the software system and create Infoguides on a particular topic. Then you can easily assign the objects to various Infoguides. Upload photos and audio files into the media center and manage them there. For photos, you can choose different formats.
MISCELLANEOUS AREAS OF APPLICATION - MISCELLANEOUS PROCEDURES
In principle, an Infoguide sums up individual objects, which are related to one another either locally and/or thematically. Objects can fit into several Infoguides and can therefore be assigned multiple times. By entering the XiBIT-number or by scanning the QR code of an object, the visitor is automatically located in a particular Infoguide, so visitors can easily step to the next related object in the Infoguide. For this reason it is important to know beforehand to which Infoguide to assign an object to. For example, if it's about an art exhibition in a gallery or a museum, the exposed objects can be assumed to one Infoguide, so you can easily browse through the objects that are in the art exhibition using the "Next"-button. If it's about presenting merchandise products, it is not recommended to assume all consolidated products into one Infoguide (e.g. a show stand or an exhibition space), but to put the product family of the trading good so that customers with a specific product interest can view the related goods after recalling a product via number or QR code. Now products can be physically moved to another location without having to change the marking label. If you have a small product range it can also make sense to put all products into one single Infoguide. If you labelled product packagings, the Infoguide in which the object is located should be permanently available.
An XiBIT Infoguide accompanies your local exhibition in museums, galleries, your sightseeing tour or can also show program offers or team presentations. Feel free to use it for your application.
CONTENT CHECK
In XiBIT you can fully represent objects with text, images, audio, videos, links & geo data. Audiovisual contents reveal more than a thousand words: an illustration, a video about an artist and his creation of the piece, that's hanging in front of your visitors, a product video or zoomed details of an exhibit can attract the visitor's attention to your object. The result of your Infoguide is entirely dependent on the quality of this content. Basically, it is just like cooking: High-quality ingredients provide for great results. Assuming the technical handling is working. If you use dense and blurred photos and text, which teems with misspellings, the appearance on your Infoguide is less representative and can harm you. Therefore it is important to create and select the contents with great care. If dealing with media is not one of your special strengths, then ask somebody for help or hire XiBIT to create your Infoguide.
Tips: Use text descriptions for your objects about an average of 150 - 350 words (a standard A4 page contains about 300 English words, this is about two minutes reading time - experienced readers are probably a bit faster). This number can of course vary, depending on the topic. For your visitor's attention is expectedly limited, exessively long texts don't pay off. Check your textual content for grammatical and orthographic correctness. To provide a bit of support, the XiBIT spell checker is checking your entries in the text fields, indicating possible errors. But it certainly does not replace the examination by an expert. The need for translation and the languages required, you deduce from experiences with your audience.
If you have a need for professional audio commentaries in studio quality, you can have them produced by XiBIT, derrived from the texts you have entered into the object description fields, spoken by professional actors in all european languages. Of course it is important to choose a voice that suits to your company or project. Audio comments with background noise and/or with original tones provide a lively and authentic listening. If you upload multiple self-made audio files, the level-differences between the recordings are supposed to be none or little. Otherwise your visitors are forced to constantly adjust the volume, which - as you can imagine - is extremely annoying.
A professional photographer visually brings out the best in your objects. If you don't know a trained photographer or if you want to do it yourself for financial reasons, it is advisable to take pictures in front of a white background (except outdoor shots) and then eventually turn up brightness and contrast, both slightly. The object should stand definitely in the foreground. At least make sure you have all the rights on the images, so nothing can go wrong anymore.
Furthermore you can arrange objects in an Infoguide and object images at the object details page concerning the order per drag & drop at your convenience.
Links to sites and videos should be suitable to objects, so that the additional information does not confuse the visitor.
SOCIAL MEDIA
Are you interested in sharing your Infoguides and objects with other people per social media, so allow this feature in the admin section. Visitors can now find your contents within the XiBIT Search and share them on Facebook, Twitter and Google+. If you do not want to deal as freely with your contents, simply use XiBIT as a classic guide system at your local exhibition without activating online status and the social media feature. This means that your content is exclusively reserved for the visitors of your local exhibition.
WIRELESS LOCAL AREA NETWORK
Many smartphone owners have an internet flatrate. Nevertheless, a local wireless network would be a nice and thoughtful service for the visitors of your local exhibition, especially for those who do not have a flat rate.
We think you are well prepared now. So you are ready to start to tell your stories with XiBIT – The X-tra Bit In Guide Systems.
All Blog entries
2021
2020
2019
2018
2017
2016