BLOG
We have set up a Paypal donation function on www.xibit.info!
Donations are a great support for start-ups, which put every cent they earn back into the product. So people who like what we do can help us to develop faster. In general, there is a lot going on in the digital field and the speed at which technology is advancing is getting faster and faster. We also have so many functions on the screen that we would like to implement. A lot of money flows into it - a bottomless pit, so to speak. But we keep at it, because paths are made by walking them. We are excited about this new opportunity!
How to donate:
The link button on the website at the top right or right below this paragraph leads to the donation page set up at PayPal. There you can choose between a one-time and regular donation.
For more culture on the internet,
your XiBIT team!
The submission period for the "Digital Transformation" funding from the Federal Ministry of Art, Culture, Public Service & Sport starts today!
Do you have a project in mind that deals with digital cultural mediation? Now you can have your project funded! Below you will find the official funding description according to the BMKÖS website:
Funding: Digital Transformation
Austrian art and culture institutions and artists should be supported in further developing and making greater use of the digital transformation in the art and culture sector through technological innovations.
Target groups/participants
art and cultural institutions with their own legal personality and natural persons (artists and cultural workers)
Objective
Supporting art and cultural institutions in the digital transformation:
Creation of digitization strategies in cultural heritage institutions
Development of training and further education offers for digital skills in cultural heritage institutions
Encouraging the development of usage scenarios for new concepts of publishing and presenting cultural heritage
Development of digital mediation activities (e.g. user-centric interface and web design, gamification, multimodal storytelling, augmented and virtual reality, etc.)
Eligibility Criteria
Innovative dimension
Comprehensible project description
Projects must be sustainable / subsequent use (in terms of content and financially); Protection against possible follow-up costs after the project period
Consider any existing technical data standards / interfaces
Make accessible/usable to the public (Open Access)
Excluded: Projects used for an institution's digital marketing (blogs, podcasts, interviews, social media…).
Funding amount: max. EUR 30,000
Applicants for funding must make a financial or material contribution based on their economic ability.
Allocation mode: jury
Next submission opportunity
Submission period: March 15 – May 15, 2023
Submission modality
Please note the submission deadlines: Applications must be submitted no later than 3 months before the start of the project. From now on, submissions of funding applications will only be accepted via the online tool.
The application must be submitted in German: application form
Required Supplements
Exact description of the projects and activities
Breakdown of the total costs including a detailed cost calculation and the desired time for the payment of the subsidy
Schedule of the project or project progress
Association statutes, extracts from the commercial register, current extracts from the register of associations, etc.
Details of the persons authorized and responsible for the implementation of the project
List of public subsidies (EU, federal, state and local) in the last five years
Legal basis
The Federal Art Funding Act applies to funding/projects.
Non-binding consultation appointment
If you have a project in mind about which you would like to convey information digitally - also with gamification - please contact us without obligation!
XiBIT information material
Browse through our new info folder or send it to friends or acquaintances who could benefit from XiBIT. It gives interested parties a good overview of our services. If you would like original information material, then request our XiBIT information folder, consisting of a folder with the contact details of a contact person, a folder, a price overview of the project implementation by XiBIT, a writing pad and a ballpoint pen. Request information material for more culture on the Internet!
Your XiBIT team
You ask yourself: "What's the point?" - We'll tell you!
This is what awaits you after the current XiBIT-app update:
Show profile members
Not to be compared with a friends function, profile membership is used for a joint profile appearance. Several users can join forces and present together. ("My Account" > "Profile Memberships").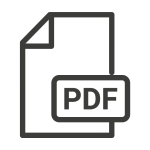 PDFs
If you have further documents in the form of PDFs, you can now upload and publish them in the admin area for any object. ("Objects" > Select object > "PDF")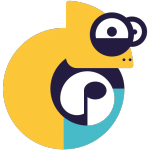 Link to hublz - go.discover.art
With immediate effect, the Infoguide offers the option of entering a link to hublz, the application for didactic, playful cultural mediation. For this you need active content at hublz. This makes it possible to conveniently connect the two applications. ("Infoguides" > select Infoguide > "hublz link")
For premium users: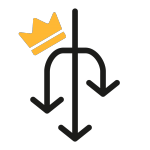 Object Groups: Parent/Child Objects
For more depth within your infoguide, you can now subdivide individual objects into further objects. These "child objects" are then displayed as tabs at the superordinate object (parent object). ("Objects" > select object > "PDF")
How do I become a premium user?
To become a premium user, please contact us personally: +43 5 0801
Until now, this was only reserved for Infoguide objects: With the new app update, your XiBIT profile page now also supports audio files and links! The new profile information board will make your audience aware of you!
An audio announcement will make your profile more interesting and if you intend to present yourself or your cultural institution digitally on site, you can do this e.g. with a signage in the outdoor area, which leads to your XiBIT profile page using a QR code, on which audio files are now also displayed in addition to videos. This makes it possible for visitors to listen to your personal story. In addition, you can enter further links to link to external websites (e.g. your homepage and much more).
Your XiBIT profile serves as the perfect starting point for your digital cultural mediation. XiBIT is at your side as a competent partner. Not only do we offer you the right cultural mediation platform, we are also happy to provide you with media content or marketing material such as e.g. signs, flyers, etc.! Get in touch with us personally!
New features on your XiBIT profile page:
1) Complete your profile with audio files:
Upload audio files (under "my account" > "profile") to make your profile audible. If you would like to create audio announcements, we would be happy to talk about the realization. Contact us!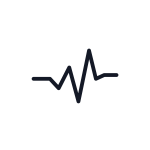 2) Add further links to your profile:
Raise your profile by linking to your home page and other informative websites related to your cultural topic (under "my account" > "profile").

3) New: QR code label for your profile page:
Your profile page is now also available as a downloadable XiBIT label! A graphic file that you can easily integrate into your own signage layout or into the new XiBIT information board (see point 4) to present your profile digitally on site.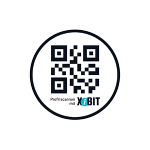 4) New sign template to mark your POI:
In addition to the templates for labeling individual objects, stations, exhibition rooms or infoguides, there is now a information board for your point of interest with your XiBIT profile in the XiBIT download area.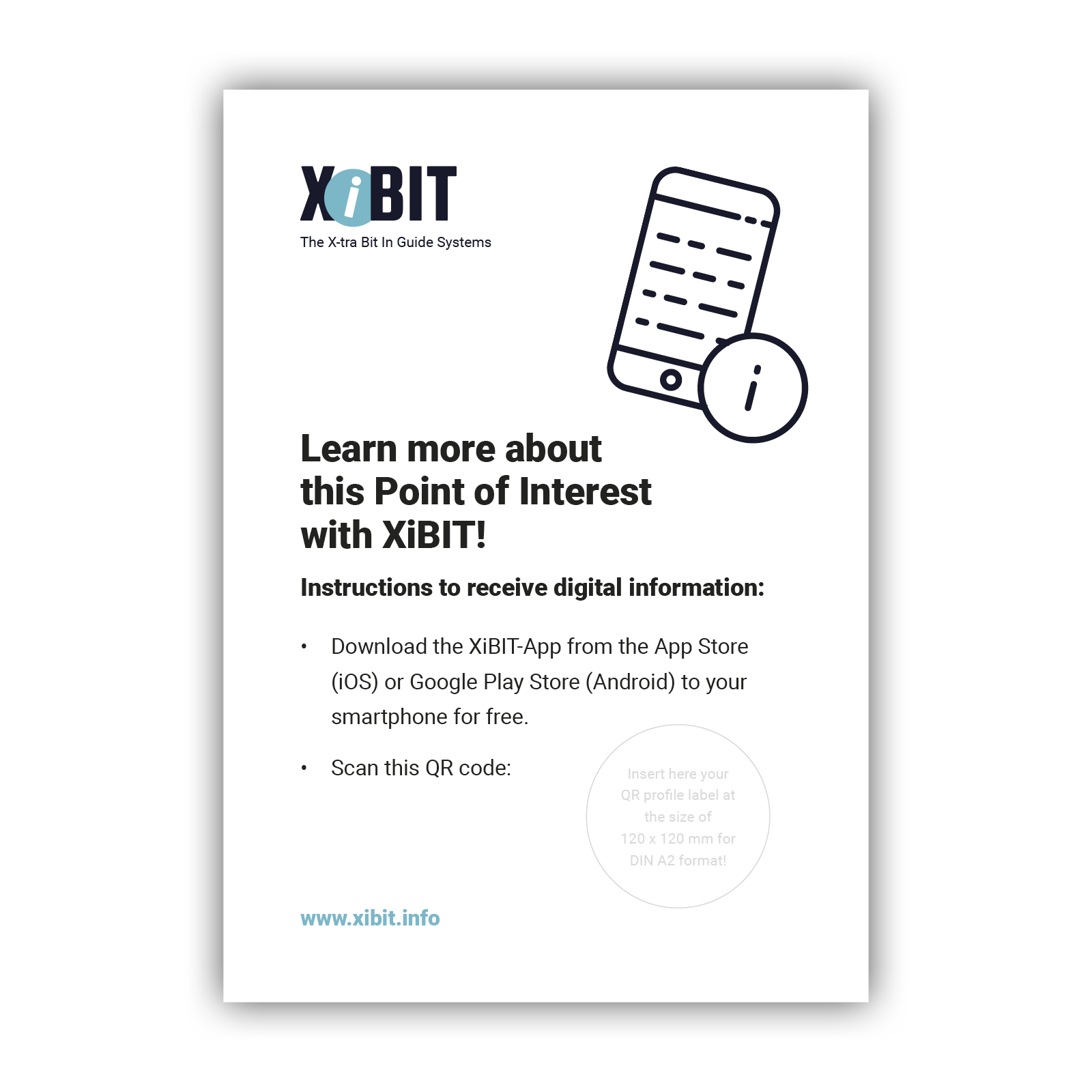 Don't be stingy with your charms!
With the downloadable information board you also provide insights from outside e.g. outside the opening times: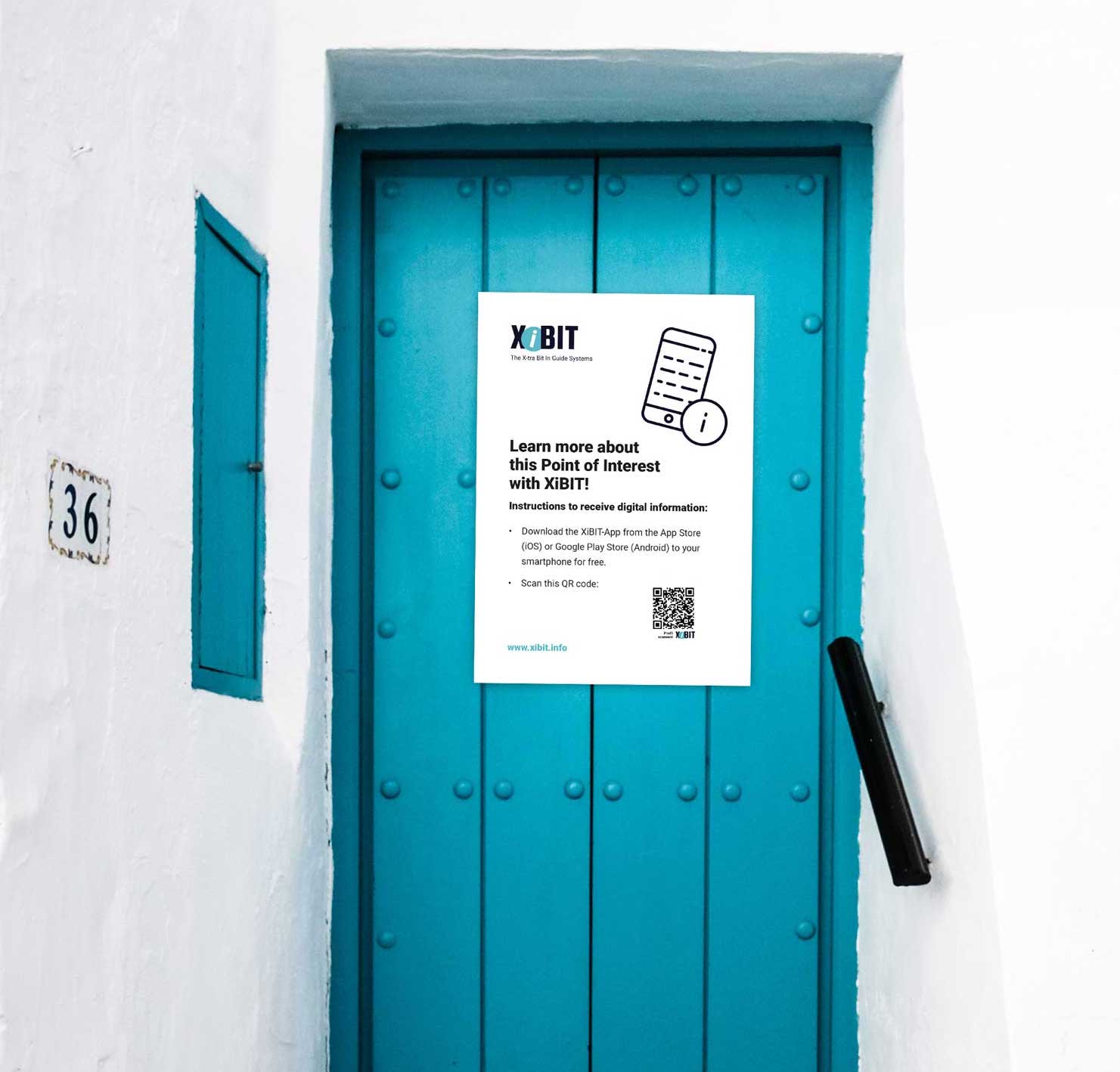 Would you like an individual sign?
No problem. Matching your corporate identity, our team will be happy to manufacture according to your wishes. Our downloadable information boards can also only serve as inspiration or text templates.
Phone support:
+43 5 08010
For more culture on the Internet,
your XiBIT team
What should it look like?
There is a multitude of digital cultural mediation offers today. Every larger institution has already digged deep into its pockets, either to have its own app produced or to park its content in an application.
inventory
Many companies that specialize in the implementation of mediation apps sell the basic form of an application again and again and only fix small details such as e.g. the surface of the application according to the requirements of the customer. In other words, a lot of money goes into one and the same task. On the other hand, there are the users, who react with an increasing stagnation of interest due to the resulting large number of apps. Most people know that and this is confirmed by facts and figures. Nevertheless, it is often not entirely clear what a sensible alternative would be. An investment for a homepage makes of course sense, because of course every company nowadays needs its own and modern website. That is why many people make their content available on their own website and work with QR codes. In principle, this is not a bad approach because it is cheaper, but it is and remains an isolated solution, because it always has its limits.
Of parallel worlds and their borders
It would make more sense to think away borders and invest the budget in the preparation of the content instead of investing in another parallel application, which is already available in thousands of versions, and for this very reason only prompts people to stop consuming it. An application is - as difficult as it is to admit, because all project managers with an affinity for technology are usually euphoric at the beginning of such a prestige project, unfortunately often doomed to become the next dead body on a user's mobile phone display, which often  falls victim to a deletion process in case of a memory clearance. What is allowed to remain is YouTube, Facebook, Insta & Co. Another attempt to reinvent the wheel leads to a dead end, as experience has shown all the time. The laboriously and carefully prepared content thus disappears into oblivion and does not reach the consumer in the desired form in the long term. Despite well-intentioned digital intentions, data is sidelined in this way. Stagnating usage figures lead to less maintenance, thus obsolete data. A vicious circle. Of course, it can also happen that one or the other user during a second stay in the same museum or in the same region might bring himself to download an app that has already been deleted a second time, but this is certainly the exception and which does not mean that users would not interrupt or finally end this cycle the third time at the latest.
Conclusion
Institutions and tourism professionals want dialogue with visitors, response or resonance. In the digital world we are talking about comment functions, sharing, followers, crowd. What does that mean next? That everyone should build their own digital and social universe? No, not at all. Platforms will come to the fore - unfortunately much too late in this area - isolated solutions will disappear more and more. It would make sense to have a platform that is constantly evolving and thus more functional than letting institutions invest money in the maintenance of their own isolated solutions, which ultimately rest in peaceful coexistence. In this context, it is important that you are still in possession of your data yourself, have the opportunity to maintain it by yourself and decide under what conditions you'd like to make this data available. The existing willingness of institutions to help themselves with digital solutions shows how great the need is for a platform on which cultural content can be presented and seen by as many people as possible. People who exchange ideas and then accidentally stumble across you and possibly follow you - mutually use synergies.
Imagine, on your next cultural trip, you could navigate your way through your travel destination with just one tool to get information about places steeped in history.
Wouldn't that be awesome? A tool that shows you places to discover and at the same time allows insight, reads to you or e.g. plays a video about it. Imagine the possibilities that would be offered in combination with technologies such as augmented reality, social media, GPS or e-commerce. Finally, cultural knowledge would be given an appropriate priority, which platforms such as Facebook, Instagram & Co have already achieved in the lifestyle sector. To experience and share education and history in an interactive way. This is our vision, our drive. That's why XiBIT exists. We want to offer tourism-related and object-related cultural content a platform for more presence for art, culture and points of interest.
Too good to be true?
In view of the current situation (you know what we mean, we don't want to write it down anymore, it's just annoying) it might feel a bit strange to imagine strolling carefree with friends through the streets of a strange city on the heels of the founding fathers or mothers ;-) But we all hear the call from afar very loudly, even if it currently leads us just to the edge of our garden or into madness. At some point things have to go uphill again, and until then, unfortunately, points of interest can mainly be researched digitally. An opportunity to position oneselves digitally in order to be seen.
As an XiBIT user, you are part of our movement, and that makes us proud.
Together we are getting closer to our goal of building a cultural information network by people for people.
Depending on the target audience, choose the languages you want to publish your content with XiBIT - a brief overview of multilingualism
Due to the growing digitization, new target groups are also emerging in cultural tourism and in the exhibition area, since the consumption of content is no longer exclusively linked to the actual stay in one place, but can be expanded with XiBIT regardless of time and space. In particular, exhibitors, museums and tourism professionals are opening up new communication and mediation channels and thus new target groups, perhaps also in terms of language.
Which languages does my infoguide need and why?
Presenting content in English as an institution of public interest should be obvious. Which languages you should use for your own infoguide can e.g. reveal your domain's access statistics by country, if you don't already know them anyway. Objects or infoguides set up in multiple languages have the effect that viewers of your content feel more personally addressed, not least because you have taken them into account by simply offering a certain language. That leaves a positive impression.
How does the creation of multiple languages work?
When creating an object or infoguide, you select the main language, in German-speaking countries this will probably be German. There is a drop-down menu on the object or infoguide page in which all available languages are available for selection: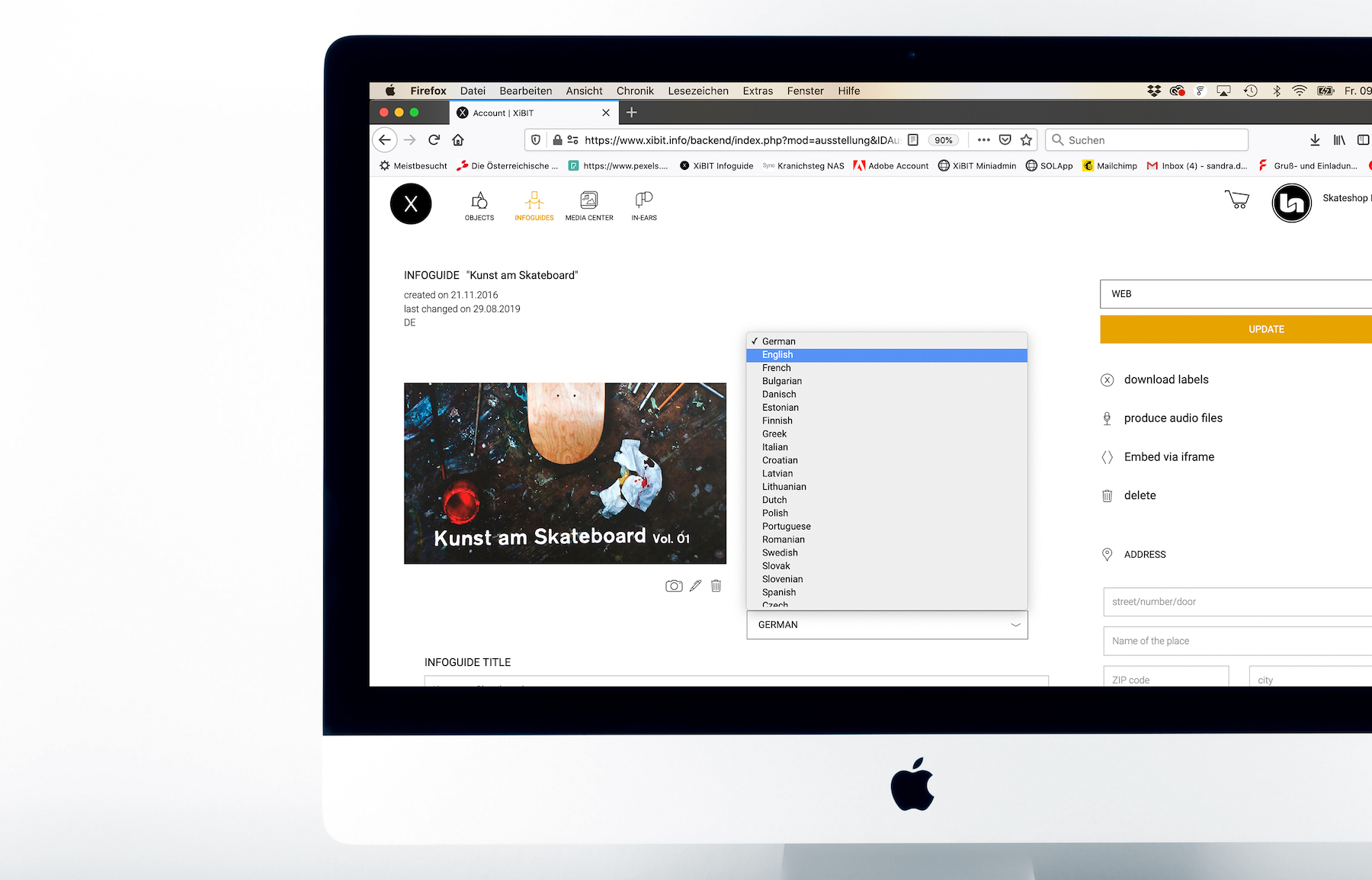 After you have selected a language, an almost empty page opens, don't panic: most of the fields should now be filled with content from the new language, the previously created language is of course still there. Don't forget to "update" every now and then. Depending on which preferred retrieval language the person retrieving data has set in the app, objects or infoguides appear in the selected language, provided as long it has been created beforehand. If your object or infoguide is not available in this language, the system will check whether it is available in the language of the operating system of the operating smartphone. If this is not the case either, the main language is displayed. According to this, continuous linguistic availability of all objects of an infoguide should be guaranteed.
Have content translated professionally - with XiBIT
If you do not have the necessary resources to translate your content, you can outsource this part. Caution: Tools like Google Translate can now really do a lot, but texts cannot be used without personal, human correction, and this only works if the person in that language is really capable.
Professional translation agencies do a very good job, and often they even offer specialization in a certain subject. If you need help, you are welcome to contact our team and order a professional translation.
You too can create a digital infoguide with XiBIT and make exhibition content visible to other people!

Your XiBIT team!
Let us emerge stronger from the "viral" crisis by using the unforeseen free time to maintain and prepare content.

A nasty virus has shown us how fast it can go if we are affected by extraordinary influences. The system of the state is taking effect, and the government is communicating en masse specifications to which we must abide in order to contain the virus. Who would have thought that within a few days, all operations would be cut back and people would stay away from the streets and thus from all showrooms? Let us emerge stronger from the "viral" crisis by using the unforeseen free time to maintain and prepare content.
At the end of the day, we hope that we will all get through this well and that we will not suffer any health or gross economic damage. Hoping is not the only thing we can do in the next few weeks. The recommendations on the part of the associations clearly are "do what you otherwise don't get, which is normally postponed". An excellent opportunity to process the archives, clean databases and to create a digital infoguide with XiBIT and add value.
In 6 stages to the digital visitor information system:
1) Organize the exhibition/inventory thematically or spatially in groups (infoguide) and determine individual objects/topics that you would like to show or thematize
2) Think about whether one infoguide is sufficient for the entire exhibition or whether more is needed (how big is my house/range?)
3) Create and assign infoguides and objects in the admin area by name
4) Prepare at least photos and texts on the objects/topics
5) Fill the object and infoguide pages with the content and select visibility status
6) Print a signage with a QR code and attach it on site (see print templates in the download area)
If you already have good photos and texts of your objects/topics, you will be happy to hear that the creation of your infoguide will be done quickly. If you shine through the lack of good media content, now is the time to change that.
You can find further help on the XiBIT blog
Often the only thing missing is the technical self-confidence needed to prepare content appropriately. You can find several articles with tips on this topic in our blog.
How do you draw your audience's attention to your infoguide?
Depending on the application, this topic could be essential for your purposes, for example when using XiBIT in a showroom. Here it is important to inform the audience about the existence and handling of the infoguide, as it cannot be assumed that the additional feature that you offer with XiBIT will be noticed without eyecatcher. Accessing information about objects created at XiBIT may not be a major challenge for media-savvy users, but you have a clear advantage and can also use it for marketing purposes if you emphasize the additional benefit.
Where to find the templates:
Under menu Info/Download there are various visitor instructions in XiBIT design, which differ in text depending on the type of use. These templates are printable, so they can be printed directly on signs, but can of course also be expanded graphically (e.g. with logos or additional text) or as a template for a completely own design.
Essentially, visitors are advised to download the XiBIT app from the App or PlayStore and to request a centrally located code. Templates are available for signs, but also in a small format e.g. for stickers for object marking.
No more excuses...
If you want to use XiBIT for an exhibition on site or for a theme path, you should know about the various signage options, because using a professional visitor information system is really easy with XiBIT.
As already discussed in the blog "How to use XiBIT to transport the content of a museum to the outside", a sign in the outside area of ​​a showroom can be useful to get information outside of the opening hours (or if a nasty virus forces operators to close facilities) and would like to give insight into an institution.
! No chance for digital invisibility!
Everything about information retrieval via downloadable QR and number codes
Here we show you how to use XiBIT labels for object or exhibition marking. If you would like to grant your visitors direct access to information on certain objects, you can use the XiBIT labels available for download.
There are two versions:
QR-Code
The QR code scanner integrated in the XiBIT app makes it easy to scan a label placed next to the object. This also works with a conventional QR scanner app, but the object page then opens in the browser.

 


Number Code
A combination of numbers is often used in a museum or gallery. The code can be typed into the numpad of the XiBIT app to call up an object.
Tip: You can assign your internal catalog number to an object (Article ID).

 
Call up an object page in the admin area: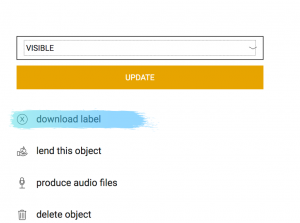 Click on "download label" - If you have not yet assigned the object to an infoguide, you will be informed of this in the dialog. The assignment to an infoguide is important so that you can also access the neighboring objects. Make sure that your object has at least the status "visible" so that it can be called up via the label.
Mark individual objects vs.
a central code for the entire exhibition?
If you want to download labels for all objects in an infoguide, you can also do this from the infoguide page. You can find the process in the same place as described above, but only on the infoguide page. In this dialog you will be asked to choose whether you want to download individual labels for all objects in the infoguide or just one for the entire infoguide (QR). Here you should consider whether you want to mark individual objects on site or e.g. only the entrance area of ​​an exhibition/room. The difference results from the individual requirement such as e.g. station paths (individual object marking) or a small museum (QR code for the infoguide is centrally accessible at the beginning of the exhibition). Think about what makes sense in your case. It can often be a combination of both.
Application examples:
In showrooms like in the museum or in the gallery:
Regardless of whether you are thinking of a specific signage for object marking or you would like to create label stickers, simply integrate the downloaded label file.
On labels:
Implement the label file in a graphic layout of your label to publish the story about your object.


You can find templates for room and object signage here!
We hope you enjoy creating your info guide!
Your XiBIT team!
All Blog entries
2023
2022
2021
2020
2019
2018
2017
2016