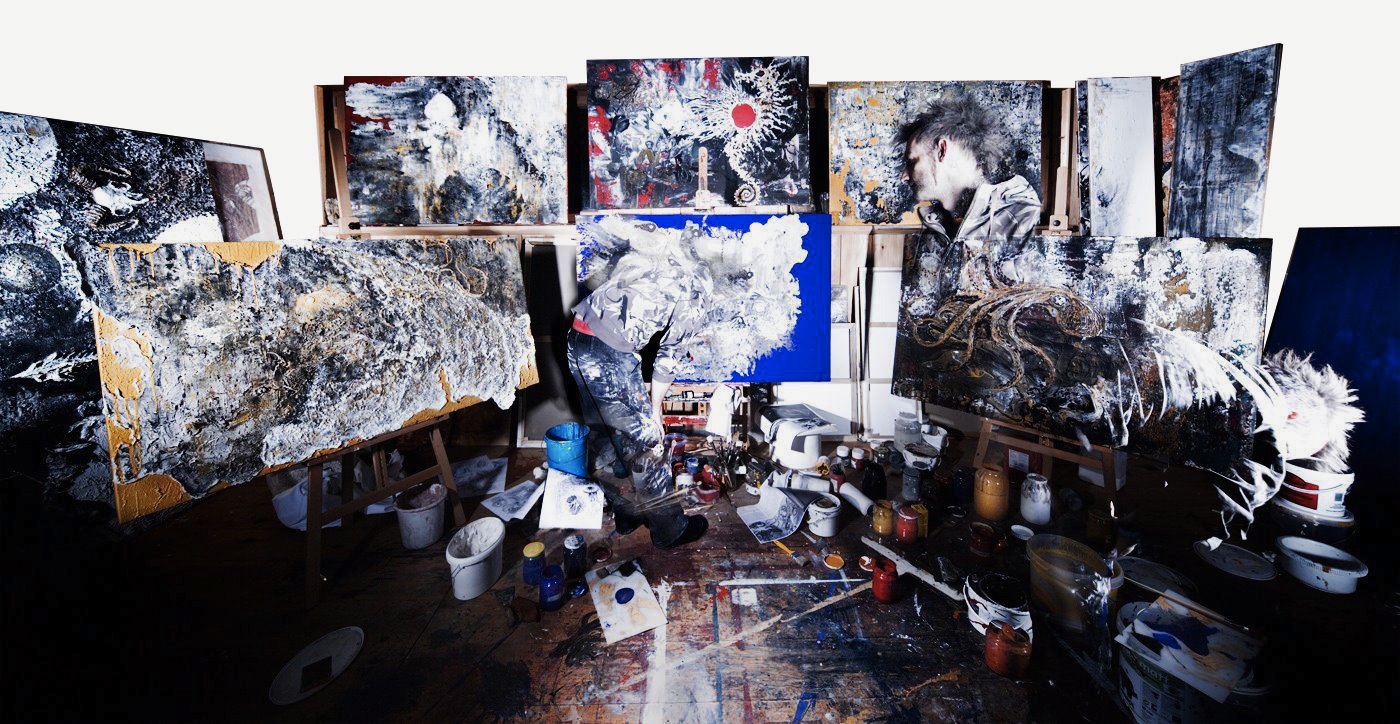 Giovi
24.08.2016 | PORTRAIT
XiBIT visits the atelier of the charismatic artist from the Almtal in the Salzkammergut.
"Process and dynamic of an emerging artwork are the most important in my performance." answered the Upper Austrian artist Giovi the question of what his art is about. "The emphasis of an archaic, thus original and simple materials handling is essential in my work." Authentic as the artist himwelf is Giovi's artwork. Not to ignore: the strong momentum and the closeness to nature, that bristle of each of his works. Giovi's art is exciting, abysmal and interwoven. Earthy colors and shapes swallow up in his paintings and create a scenery of geological and animalistic elements. Sometimes it may have something dark, but on closer inspection, it is beautifully grounded and stimulates viewer's imagination to take off. The 38-year-old painter and sculptor originates from a sawmill in Grünau (Austria) and lives and works in his studio in the countryside. The materials he predominantly uses are, besides paint and canvas, wood, soapstone and metals of any kind.
Giovi intensified his artistic career already as a pupil of the HBLA for Artistic Design in Linz and the subsequent studies at the MultiMediaArt in Salzburg focusing illustration, photography and film. He now lives as a freelance artist and creates creative work with a high recognition value. A real "Giovi" adorns two places in the home municipality: The monumental wooden sculpture "AlmaSulis", the dealing with water and its overwhelming power, hovers above the Almfluss, and "Der Schwall", an embodiment of the identity of the Almtal, embellishes the forecourt of the new municipal office.
In addition to his diverse creative activities Giovi also teaches. He does workshops with children from five to ten years: "I assure the children the greatest possible freedom. They can just do whatever they want to. Each child comes in its painting clothes that must not be protected. Material is available in abundance. Everything is possible. The children mix, pour, paint, spray and smooth. And if there aren't any results, it doesn't matter. Although I get money for these courses, I receive the special value out of how incredibly much I get back from the children: I'm constantly reminded that creativity has to do with ease, and that you do not need special access, but only the freedom to do. "
Giovi taught from 2009 to 2010 also students at the advanced technical college in Hagenberg, a faculty of computer science, communications and media. His theme: creativity for problem solving ".
"It is about to take the people's fear of drawing. After the lower grades in school almost everyone believes 'I can not draw'. Children never say that. Somewhere in the school apparatus drawing is hyped to art and degraded on the other hand, according to the motto 'nobody needs creative teaching'. So it happens quickly, that the relaxed handling with drawing gets lost. Among artisans, it's usual to draw technical instructions if someone doesn't understand what the other says. Even in countries whose language you do not speak, is drawing very helpful. For me it is like a foreign language: Comfortable, on the wall or on a piece of wood. In colleges and on universities, people are often very performance- and success-oriented. I am trying to show the students what creativity is about, how inspiration happens and to go through life with an open mind. It's important to let evolve a temporal balance between input and output. You also need to learn to say no. And it's not about thinking everything out. I amaze the the students with fact that they should tell me something with hands, feet and with drawings, no matter how good the drawings are. It should work very informal. You meet interesting people possibly in a café, so you simply draw something quickly onto a bear mat."
If you got curious, watch out Giovi's exhibitions on XiBIT and let inspire you!