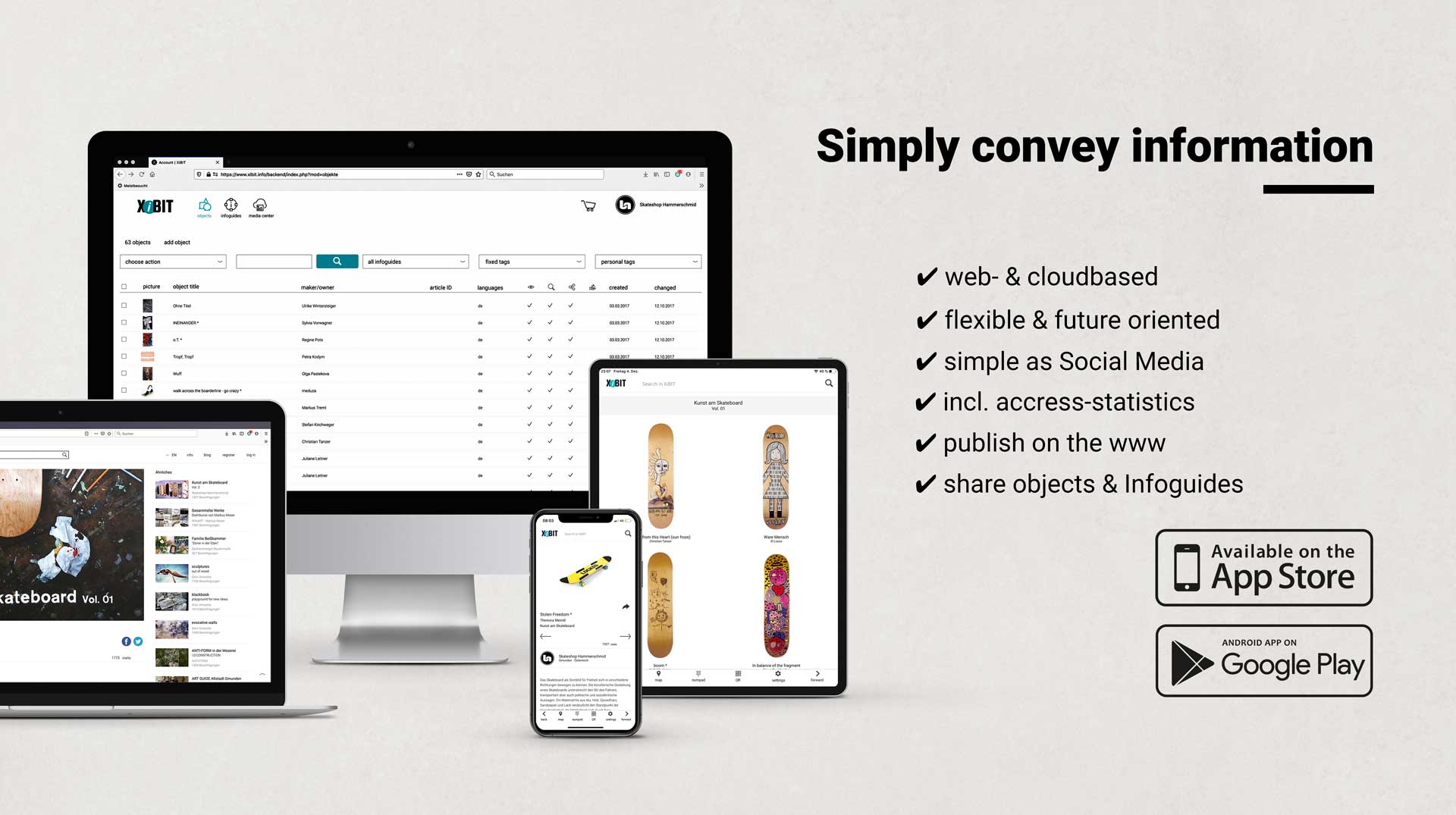 "Finally we are visible irrespective of our opening hours. Furthermore we can make daily based changes!. That's the future!!"
Mag. Ilse Schachinger, Museum Geyerhammer
"Everyone can present themselves at XiBIT because of the free account. The more people use the offer, the better!"
Stefan Schimpl, tourism Traunsee-Almtal
"It will be exciting, because with XiBIT a lot is possible!"
Mike Schumer, artist at ANTI-FORM
Tell Your Stories!
Ideal for city tours, museums, station routes, showrooms of all kinds ...
Register & create a profile

Create objects & infoguides (thematically structured object groups), add content

If you like, publish infoguides at XiBIT and/or ...

mark on site with downloadable labels/information signs

embed infoguides (e.g. on your own homepage)

cloud based

without contract obligations
That gives you a clear advantage.
All advantages at a glance:
X-tra for visitors
no registration required
Infoguide on your own smartphone
no unhygienic loaners
free iOS- and Android-App
watch also via webplatform
find interesting exhibitions
in your district
visit exhibitions at your own speed
locally or decentralized
multilingualism
Social Media
no downloads needed
Fremium Account
use for free
create infinitely many
objects & Infoguides in the CMS
& show it on maps
Place downloadable QR or
number labels on site 
downloadable templates
for marking showrooms
Cloud-based storage
multilingualism
Social Media, embed Infoguides
statistics
Upgrade to premium-account
if required
X-tra for exhibitors
web-based Infoguide system:
no expensive hard- or software
needed
present objects with images,
text, audio, videos, links, geodata
and many more
publish on the web
Social Media
create and maintain projects
by yourself or hire the XiBIT team
order audio announcements
in all European languages
By personal agreement:
Internet, Wi-Fi, loan & purchase
equipment, signage,
marketing material