BLOG
As such, the internationally active visual artist has already traveled to Shanghai, Paris, Jakarta, Tokyo, Marseille and, last month, honored Linz with her exhibition "the beauty of the lingering time".
On the 20th of April in 2018 the 10-day vernissage of the native Saarbrücken artist Nica Junker ended at the "Splace", the gallery of the Art University of Linz. "The beauty of the lingering time" is the title of the exhibition, which illustrates the development process of Nicas PhD work on the topic "for a development of an artistic method of the participative photography for de- and reconstruction of social models for further discussion, visually documented as work in progress. An important and central theme of her work is "spacelessness". Shortly before dismantling I visited the very sympathetic and cordial artist.
For those interested in art, what is shown turns out to be impressive, chronologically photographically documented series of photos of experiences and impressions in which the interplay between the lack of time and space plays the main role. The exhibition deals with the themes of memory and time. Nica visualized a subjective sense of time that resembled a train ride: You sit in the compartment and drive backwards. By looking out of the window, the images of the outside world rush past and mix with the images of the interior. Outside and inside look like a double exposure of a film in the camera. By double exposing sea and snow landscape photographs with industrial areas, Nica was able to create an awesome impression of being out of time. Charmingly written texts accompany the photographs and describe the development processes. The heart of the exhibition, however, is the video installation of the theme in moving image presented with three flatscreens and the projection of the film onto the windows of the Splace, which at night produces remarkable impressions in the outdoor area.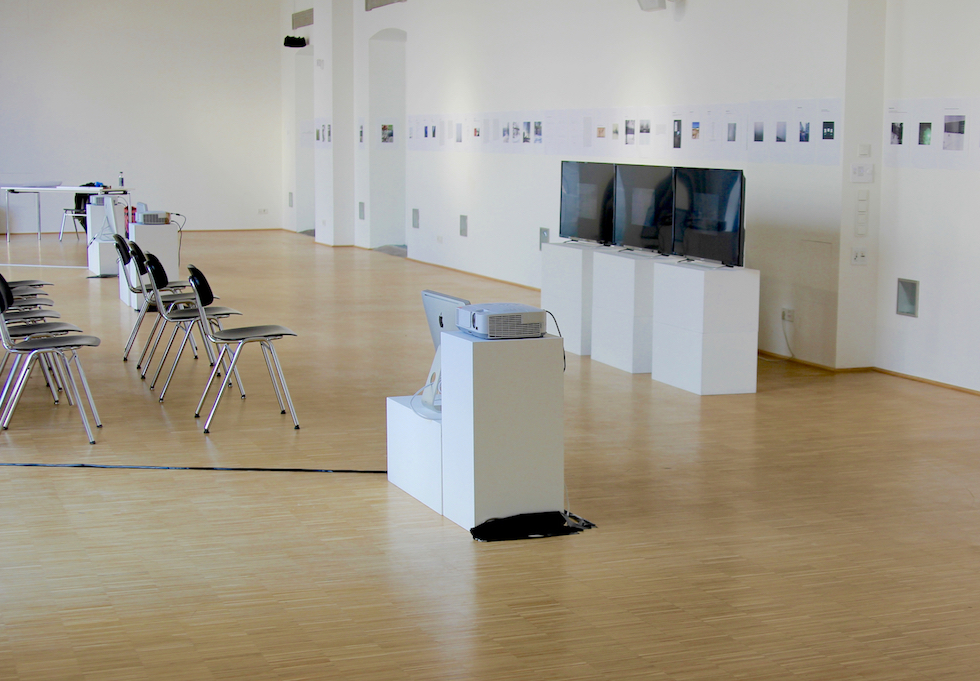 "The relationship of time, space, death, birth and love fascinates me. I explore their limits by dealing with topics such as memory, future, desires, dreams, parallel universes, time shifts and so on" (Nica Junker, visual artist)
Born in 1975 in St. Ingbert in Saarland, Germany, the film director studied philosophy and comparative literature in Leipzig and at the Sorbonne in Paris. Between 1999 and 2005, she studied directing at the HFF "Konrad Wolf" in Potsdam-Babelsberg before earning her Postgraduate Certificate in Photography at the Central Saint Martin's College of Art and Design in London in 2008. This was followed by some documentary and other films, stays and lectures abroad, such as Japan, France etc. and notable prizes. Since 2014 Nica works on her Ph.D in artistic research at the Art University Linz. The video for "The beauty of the lingering time" can currently also be found in the current issue of the Splace Magazin - the digital magazine of the Kunstuniversität Linz.
The exhibition about the mining site in the Wolfsegger Hausruckviertel has become digital and opens up to its visitors regardless of place and time.
In the showroom of the "Berknappenkapelle Kohlgrube" in Wolfsegg/Hausruck for years any legacy of the formative coal era was lovingly assembled by the members of the association and committed hobbyists to make it accessible to the public. The result is an impressive collection of relicts that seamlessly covers the period from the first coal deposits in the 18th century to the factory closure of the "Wolfsegg-Traunthaler Kohlenwerks AG" - the legendary coal mining company founded by Alois Miesbach, Rothschild and Count Julien-Wallsee in 1856. Since, according to the Bohemian model, the music of the mining traditions was part of it from the very beginning, it is important to the musicians to not let this special guild become extinct.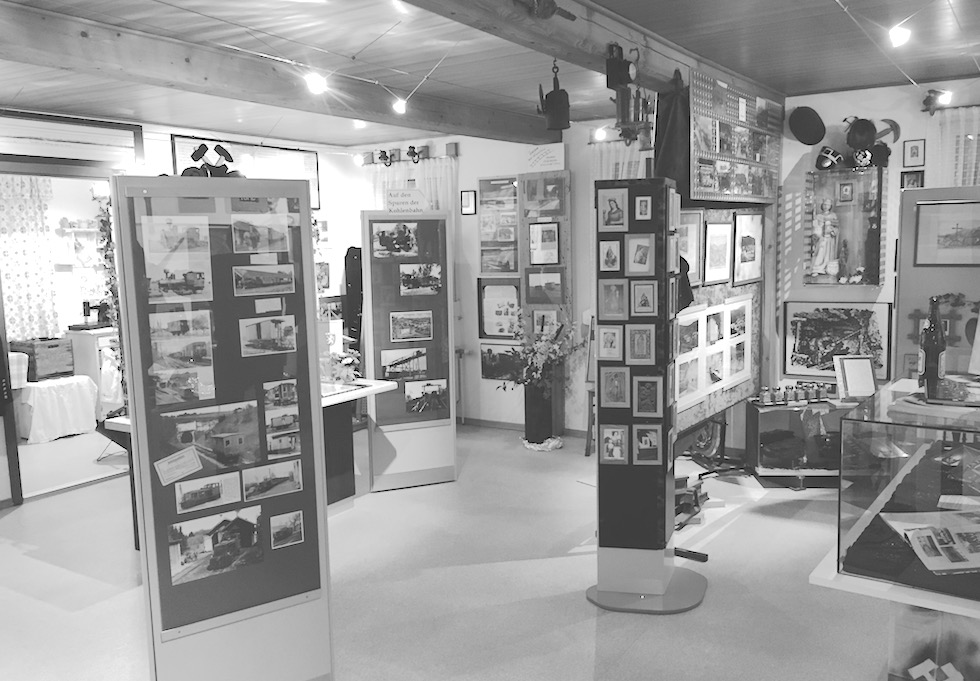 "Our historic village was created just because of coal mining right at this spot. Our ancestors were miners. To keep in mind who we are and where we come from, we want the history of "Kohlgrube" not to be forgotten." (Manfred Ecker, Tuba)
The miner band was founded in 1852 by Bohemian miners, who were called into the country by the Wolfsegg reign. It was only a small number of 16 men who turned together to a brass band to play for the newly settled miners of the colony Kohlgrube. Today, the musical association is a cultural bearer in the community of Wolfsegg am Hausruck, which holds on to traditions, cultivates customs and passes on the values to the youth.
In 2006, WTK's operating facilities, which are now used as industrial monuments and venues, were displayed by the Provincial Exhibition of Upper Austria under the motto "Coal and Steam". "This has revived the topic of mining in Wolfsegg and we were able to reach many people." rejoiced the association members.
"To keep people informed about our history regardless of time and place, we've created a digital infoguide on XiBIT. Since the topic of opening hours is problematic, as is the case with many associations whose members volunteer, the need to find an alternative way of presenting the contents of our showroom to the public is pressing." (Adalbert Valenta, 80 Jahre, Zeitzeuge und Schauraumführer)
Adalbert Valenta has witnessed the mining itself, can remember everything as if it had been yesterday, and does mainly the guidance in the showroom on site. Authenticly, in dialect and miner's language, he revives the former times and even gets laypersons into the topic. It was therefore very natural to keep his stories for posterity and to produce infoguide announcements not with a neutral speaker but with himself. "That makes the whole thing really authentic." the proud musicians agree.
The infoguide can be used by visitors on site as an information source on their own smartphone during the exhibition, but also by interested people at home in front of the computer. With the sharing function, it can be shared through social media, reaching many people. For the time being, the guide is unfortunately only in German, an English version will follow.
Good Luck! ("Glück Auf", miner's greeting)
Format, Not Uniformity
The labeling of a loose fit for Jeans did not act as a model for the design and screenprint-label of St. Georgen by the same name. Nevertheless, the founder, Michael Schumer, is considering that there is a connection in the informality and the will not to bind oneself to limitations of strict patterns. Fittingly, there is an intention to re-invent oneself. Since the agency's founding in 2010, a collective of like-minded friends has developed from what had intentionally been a T-shirt label. Raffaela Schumer (formerly Malz) joined in 2012 and the creative duo started to handle commissioned artwork under the monicker of ANTI-FORM.
Raffaela is a stylist with heart and soul and also the operator of Vöcklabruck's hairdressing salon "Salon Frida". There, not only old braids are cut off: the concept of a hairdressing salon and a sales outlet for art and products from ANTI-FORM manifests the crossover and networking aspect.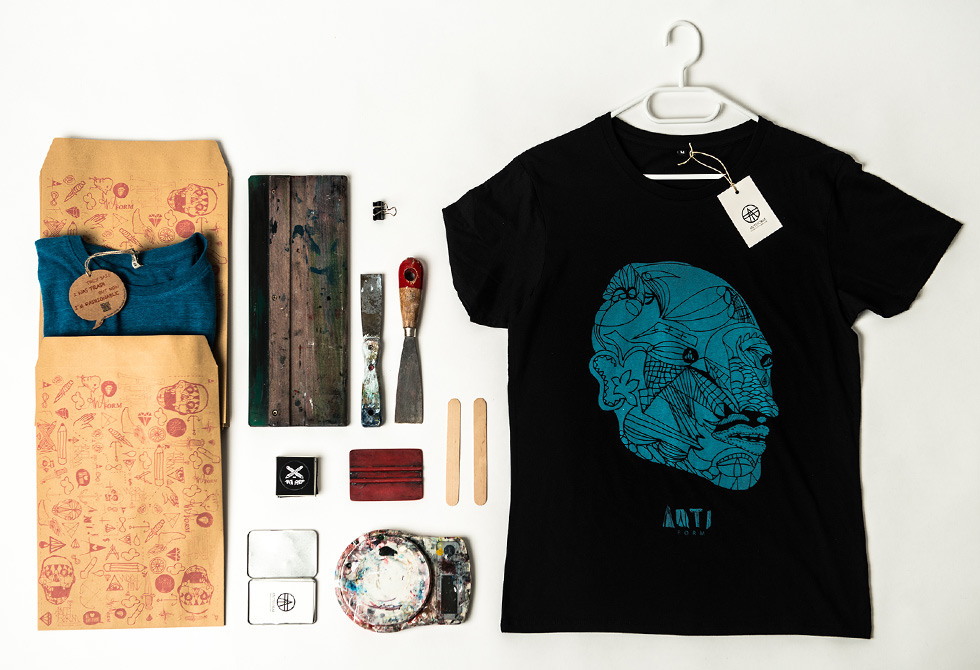 "We love to marry the analogue handcraft with digital styles. That's the way to create a certain tension and to add character to our art." (Michael Schumer, artist and owner of ANTI-FORM)
Over the years, the team has developed a distinct style which you can trace on skateboards, shirts and packagings. Manipulating the analogue handcrafted screenprints via digital processing, there's a certain tension and the feel of subversiveness with each artwork. "Maybe that's the result of trial and error. We have experimented a lot and still do", assumes Michael Schumer.
Regarding experiments, both artists complement each other perfectly. Their artistic adventures lead up to results which display a certain twist in most of all cases. How this spin is coming about depends mainly on the material or medium used. In other words, they are going against the grain. Raffaela and Michael's way encompasses detailled and figurative stuff as well as intentionally primitive or naive approaches. To dedicate oneself to experimentation it doesn't need circumstances of chaos, but rather a highly organised timeframe which allows them to cherrish the freedom of expression.
"We sometimes even work in a very autodidactive way and combine whatever we can get a grip on, like paper caollages, groceries, oil crayon, acrylic paint, linocut and beyond. By doing this, various structures come to the fore which again provide basic material for graphics, print or textile design." (Raffaela Schumer, co-owner of ANTI-FORM)
Next to artists of the (early) 20th century, like Hundertwasser, Andy Warhol, Frida + Diego, David Bowie, Pattie Smith, Picasso or Kandinsky, Raffaela feels informed by brave contemporary artists, which in the age of Instagram churn out whatever they can in order to share and connect. Standing still is no future option for the people running ANTI-FORM. In 2017 the intensified engagement in moving pictures is already on the agenda. "We do know professionals who can deliver film and animated pictures, but in order to develop skills and a unique style, I think that it is necessary to dive into the matter and experiment," says Michael Schumer – and at the end of the day, you'll have another pair of jeans.
With XiBIT, all information about our animals is now available on the smartphone.
Embedded in a fairytale like postcard idyll of Upper Austria's Almtal, there lies the Cumberland Wildlife Park Grünau – a forested paradise for wanderers and friends of nature. As one of the most popular excursion destinations in the region, the newly reopened wildlife park in May 2015 invites visitors to discover the local flora and fauna. With 60 hectares of land and 500 animal inhabitants, the park is one of the largest in Europe.
The immense biodiversity of the organisms living on the site offers a unique sensual experience, learning contents, as well as the opportunity to recover. On two routes of different lengths in an almost undisturbed ecosystem, visitors can learn about the many animal species that have been threatened with extinction, as well as other European wild animals. Lovingly designed information panels at every species' compartment provide interesting facts about the inhabitants of the respective enclosure. Even though the deer park has that many sensations on offering, which make big and small explorers almost forget their smartphones, the need for a flexible edutainment solution has been growing over the years. Since the deer park is not only a highlight of local and country-wide tourism, but also attracts an international audience, it has been decided to use a professional visitor information system. XiBIT is the perfect and, above all, cost-effective infoguide solution.
"XiBIT not only gives the wildlife park a topmodern image, but also offers foreign-language visitors the opportunity to retrieve information about our animals in English. For reasons of lack of space, the provision of foreign-language texts on our panels would not be possible." (Bernhard Lankmaier, CEO)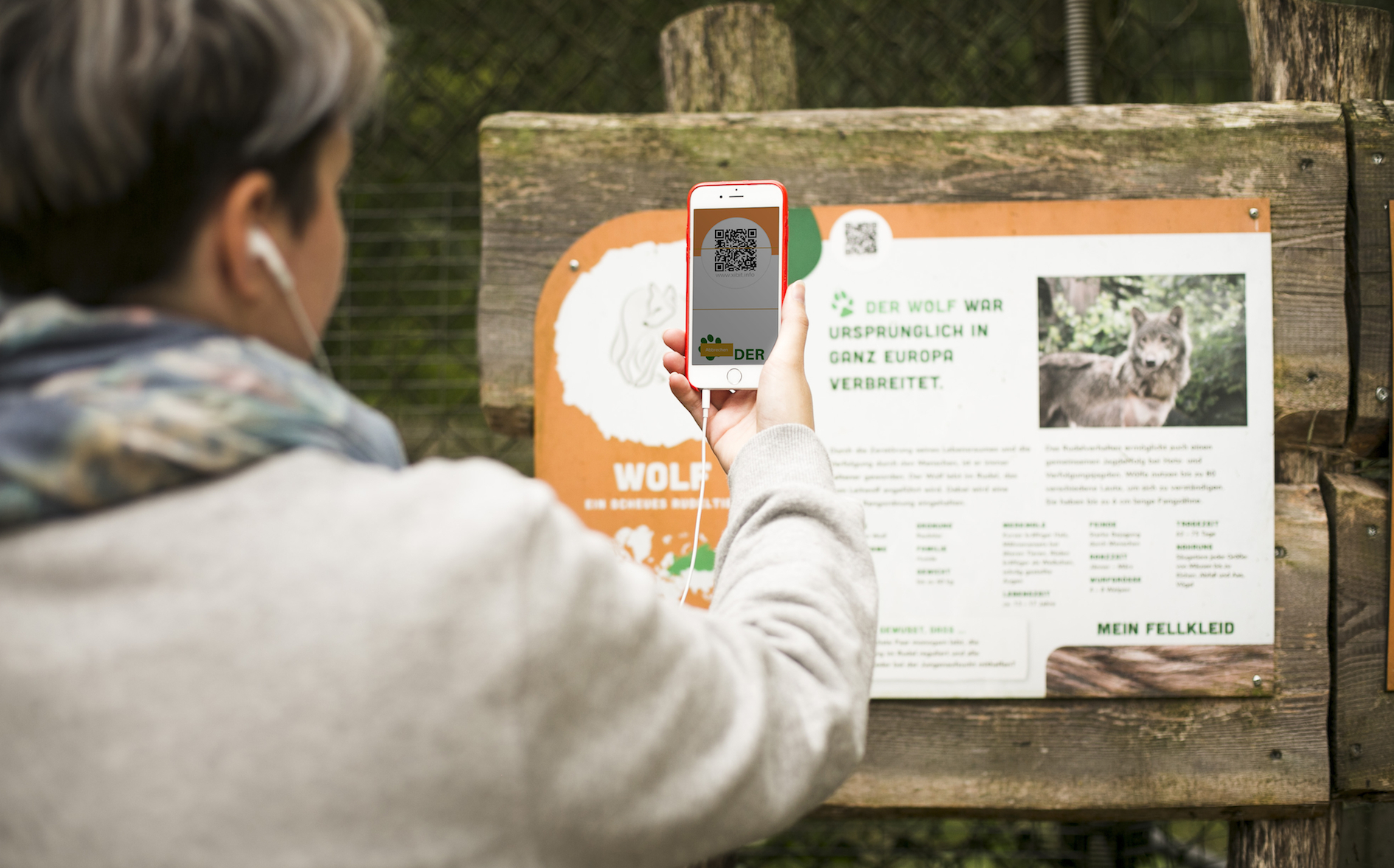 The scanning of the QR code with the free downloadable app for iOS and Android also provides information about your actual position because of the georeferencing of the individual stations and their representation in a map. The ten most popular animals have been equipped with an audioguide in German and English, so you can get it read aloud on the way to the next station.
"We were able to make our infoguide ourselves via the Internet, and the maintenance and order of the individual stations can be done or changed by ourselves at any time. This is an advantage when an enclosure is misplaced, closed, or added."
Lankmaier is pleased with the new achievement, "not least because XiBIT is free of charge in the basic version and we prefer spending our money, which is partly financed by donations, for our animals."
If you did not make it to the Cumberland Wildpark Grünau last summer, you should plan a visit in the autumn or winter months, because even in the cooler time of the year you will be enchanted by the picturesque landscape of the almost untouched nature and the peaceful coexistence of brown bears, wolves, lynxes and co.
XiBIT visits the atelier of the charismatic artist from the Almtal in the Salzkammergut.
"Process and dynamic of an emerging artwork are the most important in my performance." answered the Upper Austrian artist Giovi the question of what his art is about. "The emphasis of an archaic, thus original and simple materials handling is essential in my work." Authentic as the artist himwelf is Giovi's artwork. Not to ignore: the strong momentum and the closeness to nature, that bristle of each of his works. Giovi's art is exciting, abysmal and interwoven. Earthy colors and shapes swallow up in his paintings and create a scenery of geological and animalistic elements. Sometimes it may have something dark, but on closer inspection, it is beautifully grounded and stimulates viewer's imagination to take off. The 38-year-old painter and sculptor originates from a sawmill in Grünau (Austria) and lives and works in his studio in the countryside. The materials he predominantly uses are, besides paint and canvas, wood, soapstone and metals of any kind.
Giovi intensified his artistic career already as a pupil of the HBLA for Artistic Design in Linz and the subsequent studies at the MultiMediaArt in Salzburg focusing illustration, photography and film. He now lives as a freelance artist and creates creative work with a high recognition value. A real "Giovi" adorns two places in the home municipality: The monumental wooden sculpture "AlmaSulis", the dealing with water and its overwhelming power, hovers above the Almfluss, and "Der Schwall", an embodiment of the identity of the Almtal, embellishes the forecourt of the new municipal office.
In addition to his diverse creative activities Giovi also teaches. He does workshops with children from five to ten years: "I assure the children the greatest possible freedom. They can just do whatever they want to. Each child comes in its painting clothes that must not be protected. Material is available in abundance. Everything is possible. The children mix, pour, paint, spray and smooth. And if there aren't any results, it doesn't matter. Although I get money for these courses, I receive the special value out of how incredibly much I get back from the children: I'm constantly reminded that creativity has to do with ease, and that you do not need special access, but only the freedom to do. "
Giovi taught from 2009 to 2010 also students at the advanced technical college in Hagenberg, a faculty of computer science, communications and media. His theme: creativity for problem solving ".
"It is about to take the people's fear of drawing. After the lower grades in school almost everyone believes 'I can not draw'. Children never say that. Somewhere in the school apparatus drawing is hyped to art and degraded on the other hand, according to the motto 'nobody needs creative teaching'. So it happens quickly, that the relaxed handling with drawing gets lost. Among artisans, it's usual to draw technical instructions if someone doesn't understand what the other says. Even in countries whose language you do not speak, is drawing very helpful. For me it is like a foreign language: Comfortable, on the wall or on a piece of wood. In colleges and on universities, people are often very performance- and success-oriented. I am trying to show the students what creativity is about, how inspiration happens and to go through life with an open mind. It's important to let evolve a temporal balance between input and output. You also need to learn to say no. And it's not about thinking everything out. I amaze the the students with fact that they should tell me something with hands, feet and with drawings, no matter how good the drawings are. It should work very informal. You meet interesting people possibly in a café, so you simply draw something quickly onto a bear mat."
If you got curious, watch out Giovi's exhibitions on XiBIT and let inspire you!
Tips and tricks for a sucessful use in the field and an attractive object presentation
In the age of smartphones & Co almost every consumer bears the appropriate hardware for an electronic visitor information system in his pocket. People are visiting exhibitions in museums, industrial showrooms, at trade fairs or on vacation and would like to receive information about various exhibits or Points of Interest. This information can be transported either ideally by a person or with auxiliary devices such as information boards, leaflets or a guide system. The latter of course is optimally the own smartphone, because it has not to be borrowed first and the use is familiar. It also helps the exhibitors to save resources such as space, money or paper. Thanks to its location service the XiBIT app shows all exhibitors in your surrounding area. With XiBIT, your environment comes to life.
Using a guide system for smartphones in exhibitions stands to reason, especially when it comes so easy as with Xibit: Once you've registered for free, you can start to enter your objects into the software system and create Infoguides on a particular topic. Then you can easily assign the objects to various Infoguides. Upload photos and audio files into the media center and manage them there. For photos, you can choose different formats.
MISCELLANEOUS AREAS OF APPLICATION - MISCELLANEOUS PROCEDURES
In principle, an Infoguide sums up individual objects, which are related to one another either locally and/or thematically. Objects can fit into several Infoguides and can therefore be assigned multiple times. By entering the XiBIT-number or by scanning the QR code of an object, the visitor is automatically located in a particular Infoguide, so visitors can easily step to the next related object in the Infoguide. For this reason it is important to know beforehand to which Infoguide to assign an object to. For example, if it's about an art exhibition in a gallery or a museum, the exposed objects can be assumed to one Infoguide, so you can easily browse through the objects that are in the art exhibition using the "Next"-button. If it's about presenting merchandise products, it is not recommended to assume all consolidated products into one Infoguide (e.g. a show stand or an exhibition space), but to put the product family of the trading good so that customers with a specific product interest can view the related goods after recalling a product via number or QR code. Now products can be physically moved to another location without having to change the marking label. If you have a small product range it can also make sense to put all products into one single Infoguide. If you labelled product packagings, the Infoguide in which the object is located should be permanently available.
An XiBIT Infoguide accompanies your local exhibition in museums, galleries, your sightseeing tour or can also show program offers or team presentations. Feel free to use it for your application.
CONTENT CHECK
In XiBIT you can fully represent objects with text, images, audio, videos, links & geo data. Audiovisual contents reveal more than a thousand words: an illustration, a video about an artist and his creation of the piece, that's hanging in front of your visitors, a product video or zoomed details of an exhibit can attract the visitor's attention to your object. The result of your Infoguide is entirely dependent on the quality of this content. Basically, it is just like cooking: High-quality ingredients provide for great results. Assuming the technical handling is working. If you use dense and blurred photos and text, which teems with misspellings, the appearance on your Infoguide is less representative and can harm you. Therefore it is important to create and select the contents with great care. If dealing with media is not one of your special strengths, then ask somebody for help or hire XiBIT to create your Infoguide.
Tips: Use text descriptions for your objects about an average of 150 - 350 words (a standard A4 page contains about 300 English words, this is about two minutes reading time - experienced readers are probably a bit faster). This number can of course vary, depending on the topic. For your visitor's attention is expectedly limited, exessively long texts don't pay off. Check your textual content for grammatical and orthographic correctness. To provide a bit of support, the XiBIT spell checker is checking your entries in the text fields, indicating possible errors. But it certainly does not replace the examination by an expert. The need for translation and the languages required, you deduce from experiences with your audience.
If you have a need for professional audio commentaries in studio quality, you can have them produced by XiBIT, derrived from the texts you have entered into the object description fields, spoken by professional actors in all european languages. Of course it is important to choose a voice that suits to your company or project. Audio comments with background noise and/or with original tones provide a lively and authentic listening. If you upload multiple self-made audio files, the level-differences between the recordings are supposed to be none or little. Otherwise your visitors are forced to constantly adjust the volume, which - as you can imagine - is extremely annoying.
A professional photographer visually brings out the best in your objects. If you don't know a trained photographer or if you want to do it yourself for financial reasons, it is advisable to take pictures in front of a white background (except outdoor shots) and then eventually turn up brightness and contrast, both slightly. The object should stand definitely in the foreground. At least make sure you have all the rights on the images, so nothing can go wrong anymore.
Furthermore you can arrange objects in an Infoguide and object images at the object details page concerning the order per drag & drop at your convenience.
Links to sites and videos should be suitable to objects, so that the additional information does not confuse the visitor.
SOCIAL MEDIA
Are you interested in sharing your Infoguides and objects with other people per social media, so allow this feature in the admin section. Visitors can now find your contents within the XiBIT Search and share them on Facebook, Twitter and Google+. If you do not want to deal as freely with your contents, simply use XiBIT as a classic guide system at your local exhibition without activating online status and the social media feature. This means that your content is exclusively reserved for the visitors of your local exhibition.
WIRELESS LOCAL AREA NETWORK
Many smartphone owners have an internet flatrate. Nevertheless, a local wireless network would be a nice and thoughtful service for the visitors of your local exhibition, especially for those who do not have a flat rate.
We think you are well prepared now. So you are ready to start to tell your stories with XiBIT – The X-tra Bit In Guide Systems.
All Blog entries
2018
2017
2016